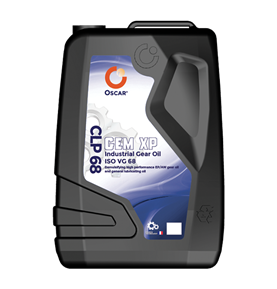 Oscar GemXP SYNTHETIC CLP 68
PRODUCT DESCRIPTION
GemXP SYNTHETIC CLP 68 – fully synthetic, high performance EP/AW gear oil based on polyalphaolefins (PAO). Oscar GemXP Synthetic CLP series are fully-synthetic gear and general lubricating oils with excellent thermal and ageing stability, very high viscosity index (shear-stable), out-standing low temperature characteristics, good cold flowing properties, very good air release, low foaming, good protection against micro pitting, good FE8 performance, zinc and silicone oil-free.
Every industrial lubricant recommendation should be done after an expert consultation on the application in question. Only then the best lubricant can be selected. Oscar industrial gear oils series "GemXP" are fitted to all your industrial applications. For the lubrication of bearings and gearboxes which are subject to high thermal loads. Suitable for lubricated-for- life applications and in gearboxes with extended drain intervals. Miscible and compatible with mineral oils. Excellent low temperature characteristics, high, shear-stable viscosity index.
Oscar GemXP SYNTHETIC CLP series of oils surpass the minimum requirements of CLP-HC gear oils according to DIN 51 517, Part 3 together with DIN 51 502, ISO 6743-6 and ISO 12925-1: CKC, CKD, CKE, AISE 224, David Brown S1.53.101.
| PARAMETERS | TEST METHOD | UNIT | Oscar GemXP SYNTHETIC CLP 68 |
| --- | --- | --- | --- |
| | | | |
| | | | |
| Kinematic viscosity at 40 °C | | | |
| Kinematic viscosity at 100 °C | | | |
| | | | |
| | | | |