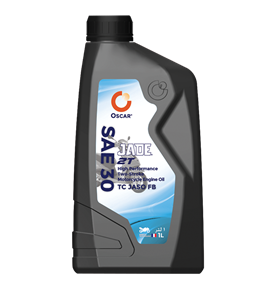 Oscar Jade 2T SAE 30 API TC JASO FC
Oscar Jade 2T SAE 30 is a lubricant for 2-Stroke scooter engines with premix or injector lube system, operating at high rpm. Reinforced with synthetic base stocks for outstanding oil film resistance and anti-wear protection. Minimizes smoke and deposits.
For use in motorcycles, snowmobiles and lean oil/fuel ratio chain saws.
• Good wear protection




• Thermal and oxidation stability and deposit control




• Reduces pre-ignition




• Good corrosion protection properties
Meets and exceeds: API TC; JASO FC
| PARAMETERS | TEST METHOD | UNIT | Oscar Jade 2T SAE 30 API TC JASO FC |
| --- | --- | --- | --- |
| | | | |
| | | | |
| | | | |
| | | | |
| | | | |
| | | | |
| | | | |
| | | | |