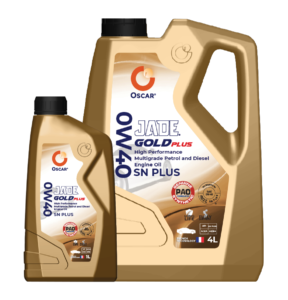 Oscar Jade Gold Plus SAE 0W40 API SN PLUS, SN/CF, ACEA A3/B4
Oscar Jade Gold  PLUS SAE 0W40 API SN PLUS, SN/CF, ACEA A3/B4 is a fully synthetic engine oil for gasoline and diesel passenger's cars engines, particularly suitable for turbo compressed, multi-valve and direct injection diesel engines. Oscar Jade Gold can be used in the most difficult operating conditions (motorways, dense urban traffic…), and is appropriated for all driving types. It is perfectly suited to engines with catalytic converters and all engines using lead free fuel or LPG. Its fluidity reduces friction and therefore creates significant fuel savings and reduces CO2 emissions. Especially adapted to long oil change intervals.
This product meets or exceeds the requirements of the latest API and ACEA industry specifications for petrol engine oils, as well as the requirements of many major American, and European engine manufacturers.
• Helps improve fuel economy




• Quick cold weather starting and fast protection helps to extend engine life




• Excellent overall lubrication and wear protection performance




• Helps to reduce oil aging resulting in long lasting protection
Meets and exceeds: API SP and RC; API SN and RC; API SN Plus and RC; ILSAC GF-6B; GM dexos1™ Gen Meets and exceeds: ACEA A3/B4; API SN PLUS; MB 229.3/229.5; BMW LL01; Porsche A40; VW 502.00/505.00; PSA B71 2296; Renault RN0700; Renault RN0710
| PARAMETERS | TEST METHOD | UNIT | OSCAR JADE GOLD PLUS 0W40 |
| --- | --- | --- | --- |
| | | | |
| | | | |
| | | | |
| | | | |
| | | | |
| | | | |
| | | | |
| | | | |