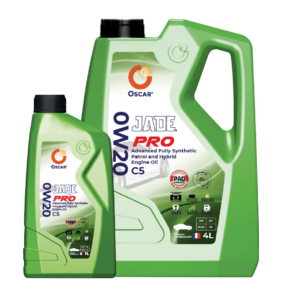 Oscar Jade Pro SAE 0W20 API SP ACEA C5, API SP, SN PLUS, SN/CF
This product meets or exceeds the requirements of the latest API and ACEA industry specifications for petrol engine oils, as well as the requirements of many major American, and European engine manufacturers. Suitable for use in both gasoline and hybrid passenger cars and light commercial vehicles.
Oscar Jade Pro 0W20 is a very high performance, ultra-low viscosity fluid, fully synthetic LOW SAPS lubricant for gasoline and hybrid engines, including the ones complying with ACEA C5 standard. Oscar Jade Pro 0W20 is formulated to reduce pollutant emissions, such as HC, NOx, CO and particles and to protect and ensure longevity of post treatment anti-pollution systems, such as particulate filters (GPF, DPF) and three-way catalysts. Oscar Jade Pro also helps to lengthen the engine life thanks to its excellent resistance to temperature variations and permits an extra-long oil change interval.
• Turbo charger protection




• LSPI protection




• Fuel Economy




• Biofuel Compatible




• Long Drain Capability in Europe




• GPF, DPF protection
Meets and exceeds: ACEA C5; API SP and RC; API SN Plus and RC; ILSAC GF-6A & GF-5; BMW LL17FE+ (BMW LL14FE+ backward compatible); MB 229.71; VW 508.00/509.00; Porsche C20; RN17FE; Volvo VCC RBS0-2AE 0W-20; Opel Vauxhall OV 040 1547; Ford WSS-M2C947-B1; Ford WSS-M2C962-A1; Jaguar STJLR.03.5006-16; Jaguar STJLR.51.5122; Land Rover STJLR.51.5122; Fiat 9.55535-GSX; Chrysler MS-12145.
| PARAMETERS | TEST METHOD | UNIT | OSCAR JADE PRO 0W20 |
| --- | --- | --- | --- |
| | | | |
| | | | |
| | | | |
| | | | |
| | | | |
| | | | |
| | | | |
| | | | |
| | | | |