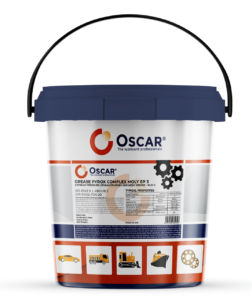 Oscar Pyrox Complex Moly EP
Oscar  Pyrox Complex Moly EP is designed for the lubrication various applications in all types of operating conditions, but particularly where the operation temperature is high and the use of conventional lithium greases is limited. 
Formulated for lubrication of roller-bearings, wheel bearings, universal joints, chassis, and various shock loaded or vibrating applications in transport, agriculture and off-road vehicles. Suitable as general-purpose grease for industrial applications requiring a NLGI 2-3 grade Extreme Pressure grease, resistant to elevated temperatures.
• Reduced wear under heavy or shock loading 
• Protection against rust and corrosion
• Resistance to water washout for equipment protection • Extended bearing life 
Pyrox Complex EP 2 Moly specification meets and exceeds:
• ISO 6743-9: L-XBEHB 2; DIN 51502: KP2P-20
Pyrox Complex EP 3 Moly specification meets and exceeds:
• ISO 6743-9: L-XBDHB 3; DIN 51502: P3N-20
| PARAMETERS | TEST METHOD | UNIT | OSCAR PYROX COMPLEX MOLY EP2 | OSCAR PYROX COMPLEX MOLY EP3 |
| --- | --- | --- | --- | --- |
| | | | Lithium Complex with 5% Moly | Lithium Complex with 5% Moly |
| | | | | |
| | | | | |
| | | | | |
| Operating Temperature range, °C | | | | |
| | | | | |
| Penetration @ 25°C, 0.1 mm | | | | |
| | | | | |
| Kinematic viscosity of the base oil @ 40°C, mm2/s | | | | |