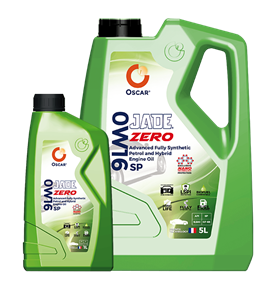 Oscar Jade Zero SAE 0W16 API SP, ILSAC GF-6B
Oscar Jade Zero 0W16 is a very high performance, ultra-low viscosity fluid, fully synthetic lubricant for gasoline and hybrid engines, including the ones complying with ILSAC GF-6B standard. Oscar Jade Zero 0W16 is formulated to helps to increase engine efficiency and improve fuel economy benefits, while providing outstanding overall engine protection.
This product meets or exceeds the requirements of the latest API and ILSAC industry specifications for petrol and hybrid engine oils, as well as the requirements of many major American engine manufacturers. Suitable for use in passenger cars.
Fuel Economy
Biofuel Compatible
For Hybrid engines
Meets and exceeds: API SP and RC; API SN and RC; API SN Plus and RC; ILSAC GF-6B; GM dexos1™ Gen 2
| PARAMETERS | TEST METHOD | UNIT | OSCAR JADE ZERO 0W16 |
| --- | --- | --- | --- |
| | | | |
| | | | |
| | | | |
| | | | |
| | | | |
| | | | |
| | | | |