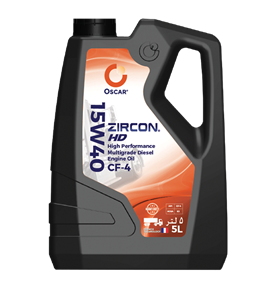 Oscar Zircon HD SAE 15W40 API CF-4/SG
Oscar Zircon HD SAE 15W40 is a heavy duty diesel engine oil recommended for turbo-charged and non-turbo charged engines under normal conditions. Suitable for many heavy duty engines. It meets all current industry standard requirements of major engine makers recommending API CF-4/SG, CF/SF.
Oscar Zircon HD SAE 15W40 can be used in older trucks and buses as well as for cost effective lubrication in off highway applications such as agricultural tractors.
• Maximum cleanliness




• Reduced engine maintenance costs




• Superior thermo-oxidative stability




• Excellent anti-wear technology
Meets and exceeds: API CF-4, CF-2, CF; Recommended for use in Caterpillar, Cummins, Detroit Diesel, Mack, Volvo, Scania, Renault, Iveco and many diesel engines.
PARAMETERS

TEST METHOD

UNIT

OSCAR ZIRCON HD SAE 15W40