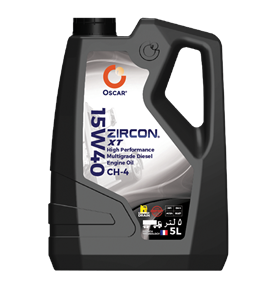 Oscar Zircon XT SAE 15W40 API CH-4/SJ ACEA E7
Oscar Zircon XT SAE 15W40 is a heavy duty mineral based diesel engine oil recommended for turbo-charged and non-turbo charged engines under normal conditions. Suitable for many heavy-duty engines. It meets all current industry standard requirements of major engine makers recommending API CH-4.
Oscar Zircon XT can be used in older trucks and buses as well as for cost effective lubrication in off-highway applications such as agricultural tractors. Oscar Zircon XT provides excellent protection against piston deposits controls engine wear, gives long engine life, maintains engine power and efficiency and lowers servicing costs.
• Excellent protection against piston deposits




• Controls engine wear




• High detergency, gives long engine life




• Maintains engine power and efficiency and lowers servicing costs
Meets and exceeds: ACEA E7-12 (2012) API CI-4 API CH-4 API CG-4; API CF-4 API CF API SL MB-Approval 228.3; Volvo VDS-3 Renault Truck RLD-2 Mack EO-N Mack EO-M Plus; MAN M 3275 Cummins CES 20076 Cummins CES 20077 Cummins CES 20078; CAT ECF-1-a CAT ECF-2 MTU Type 2 Deutz DQC III-10; Detroit Diesel DDC 93K215 Global DHD-1
| PARAMETERS | TEST METHOD | UNIT | OSCAR ZIRCON XT SAE 15W40 |
| --- | --- | --- | --- |
| | | | |
| | | | |
| | | | |
| | | | |
| | | | |
| | | | |
| | | | |
| | | | |